FNESC Story
FNESC and Science Education –  On February 26, Living Lab staff and partners attended the Science Education workshop held by FNESC – the First Nations Education Steering Ctte. which is the umbrella group for First Nations led education in BC.
FNESC staff  led workshop participants, mainly  school teachers, TAs and counsellors  through the new Science Curriculum focused on Grades 5-9.   http://www.fnesc.ca/science-first-peoples/.
The First Nations Education Steering Committee (FNESC) http://www.fnesc.ca/about-fnesc/ was founded in 1992 by participants at a provincial First Nations education conference at the Vancouver Friendship Centre. That visionary group of people determined the need for a First Nations-controlled collective organization focused on advancing quality education for all First Nations learners, and they set out FNESC's commitment to supporting First Nations in their efforts to improve the success of all First Nations students in BC. FNESC works at the provincial level to provide services in the areas of research, communications, information dissemination, advocacy, program administration and networking. Their mandate is "to facilitate discussion about education matters affecting First Nations in BC by disseminating information and soliciting input from First Nations.  The primary goal is to promote and support the provision of quality education to First Nations learners in BC."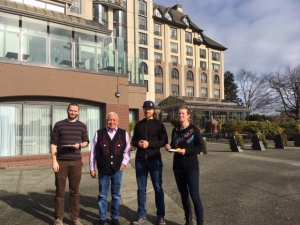 Left to right – Matthew Stewart( Science Venture), Frank ( Bangus) George,  Tensley Koontz ( Esquimalt High School Indigenous Counsellor, Sonya McRae, Shoreline School Art Teacher, Big Canoe Program Coordinator
Note: The group are standing at the location of the site of Chief Cheetlum's ( Chekonein family) long house – Bangus'  great grandfather whose Cadboro Bay long house was moved to the Inner Harbour in the 1840's.
First People's Principles of Learning – http://www.fnesc.ca/wp/wp-content/uploads/2020/09/FNESC-Learning-First-Peoples-poster-11×17-hi-res-v2.pdf