Living Lab Team Visits the Netherlands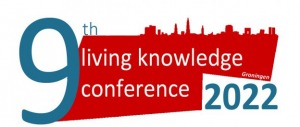 Over the past several years, Living Lab team members have built a reputation for presenting our practices to school groups, workshops, and conferences virtually and in person. On July 25-July 4th, nine team members travelled to the bicycling city of Groningen in the Netherlands to attend the Living Knowledge Network (LKN) 09 Conference as part of the SSHRCC-funded Indigenous Resurgence Project.
Our team was able to share local practices and foster relationships with the Global Living Knowledge Network (LKN), a key community-campus hub in Europe dedicated to connecting higher education to sustainability and social justice and creating the 'science/ research shop' infrastructure via a global network. https://livingknowledge.org/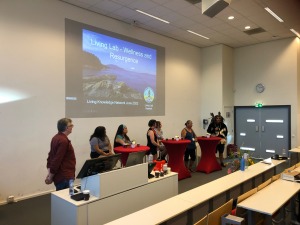 Team Presentation at Living Knowledge Network Conference | June 2022
Read our presentation. 
The Conference focused on New Synergies in Research with and for Communities: Meet, Learn, and Collaborate. The community-campus team included members from the W̱SÁNEĆ School Board, the Songhees Nation, the PEPÁḴEṈ HÁUTW̱ Foundation and UVic. The team included members of W̱SÁNEĆ School Board and Nations, Esther Morris, Tye Swallow, Robert Louis; Living Lab Arts and Community Engagement Staff Coordinator Jessica Joseph; Living Lab Program Director Maeve Lydon; Songhees Nation, UVic student and Living Lab researcher Lyndsey Joseph; PEPÁḴEṈ HÁUTW̱ Foundation members Sarah Jim (W̱SÁNEĆ) and Judith Lyn Arney; and Darcy Mathews, Archaeologist and Ethnobotanist, UVic Environmental Studies Professor and co-UVic Research lead with Living Lab.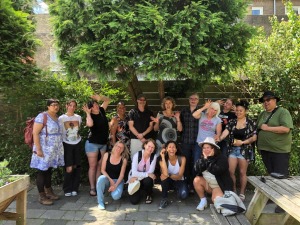 Living Lab Team lunch with hosts- UCGroningen faculty  and students 
The conference trip was a success, and Living Lab would like to thank University College Groningen's Faculty of Liberal Arts and Sciences for their hospitality in hosting our delegates.
We would also like to thank Prof. Bettina Van Hoven and Prof. Dr. Hanny Elizinga, Dean of the Faculty, for hosting a welcome event and learning exchange between the Living Lab team, UCG students and staff.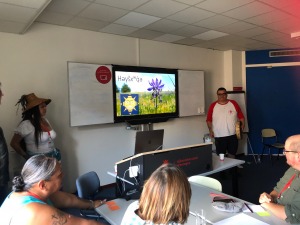 Lyndsey Joseph ( Songhees) and Robbie Louis (W̱SÁNEĆ ) Presenting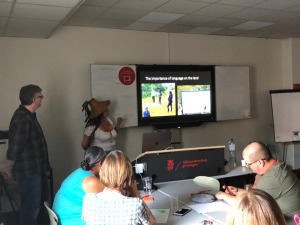 Darcy Mathews and Lyndsey Joseph (presenting at LKN)
What now? For several First Nations delegates, this was their first overseas European experience. It allowed these leaders to experience through a colonial lens of understanding where most European settlers living in their W̱SÁNEĆ and Lekwungen territories came from! Additionally, connecting the delegates with the Netherlands and Northern Europe's culture of innovation and networking with people from across the globe who are committed to ecological and social justice and restoration was inspiring to all.
The conference allowed the delegates to foster new relationships and opportunities to exchange and share community-based projects and research focused on those benefiting communities. As a result, new collaborative exchange partnership project ideas and plans were seeded for the future.
After the conference, Robbie Louis and Esther Morris visited Holten Cemetery the burial site of fifteen-hundred Canadian settler and First Nations war veterans near Groningen. They paid their respects to W̱SÁNEĆ  community member Edward Underwood ( the uncle of Mavis Underwood,  W̱SÁNEĆ community member and UVic student-Living Lab advisor) who is buried there.
You can also read the LKN report on the conference.